A Palace Upon the Ruins
Present – 2010 | 2009-2000 | 1999 – 1990 | 1989 – 1978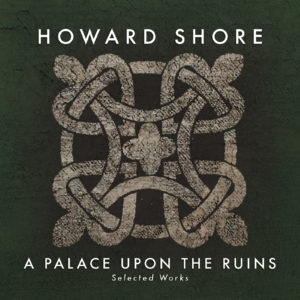 A Palace Upon the Ruins
1-6: A Palace Upon the Ruins – lyrics by Elizabeth Cotnoir
Jennifer Johnson Cano, mezzo-soprano; players of the Bridgehampton Chamber Music Festival
7: Peace – text by Eleanor Roosevelt
Essential Voices USA Youth Workshop; Benjamin Hutto, organ; Judith Clurman, conductor
8: The Garden – text by Robert Penn Warren
21st Century Chamber Choir; Ludwig Wicki, conductor
9-14: Six Pieces
I. Pianoforte, Strings – Howard Shore, conductor
II. Quartet – Kronos Quartet
III. 10 Celli – RTÉ Concert Orchestra; Ludwig Wicki, conductor
IV. Strings – RTÉ Concert Orchestra; Ludwig Wicki, conductor
V. Mezzo-soprano, 10 Celli – RTÉ Concert Orchestra; Ludwig Wicki, conductor; Clara Sanabras, mezzo-soprano
VI. Strings – RTÉ Concert Orchestra; Ludwig Wicki, conductor
15: Catania
Lang Lang, piano
Now Available: iTunes, Amazon, Barnes and Noble and Best Buy.
Howe Records Presents A Palace Upon the Ruins – Selected Works, an Album Featuring Concert Music Composed by Academy Award-Winner Howard Shore, With Performances by Such Classical Stars as Lang Lang and the Kronos Quartet.
Released on November 4, 2016 – includes the titular song cycle featuring mezzo-soprano Jennifer Johnson Cano, along with choral works "Peace" and "The Garden," instrumental-vocal suite Six Pieces and solo piano piece "Catania" for Lang Lang
"Shore's sweeping, luscious scores are a world unto themselves." — Billboard magazine on Howard Shore's Oscar-winning music for The Lord of the Rings trilogy.
Composer Howard Shore has won three Academy Awards, four Grammy Awards and three Golden Globe Awards. Shore's music has been an increasing presence in concert halls across the globe, with his symphonic scores for The Lord of the Rings trilogy achieving great success with over 400 performances by the leading orchestras around the world. His opera The Fly premiered at the Théâtre du Châtelet in Paris and Los Angeles Opera in 2008. Shore's concerto for superstar pianist Lang Lang, Ruin and Memory, had its premiere at China's Beijing Music Festival in 2011. Now, Howe Records presents A Palace Upon the Ruins – Selected Works, an album of Shore compositions performed by some of the classical scene's top artists, including Lang Lang, the Kronos Quartet, Ireland's RTÉ Concert Orchestra and frequent Metropolitan Opera mezzo-soprano Jennifer Johnson Cano. Produced by Shore, this is a collection brimming with subtle grandeur and deep emotion.
Released digitally and on CD via PIAS in the U.S. and Discovery Records in the UK on November 4, 2016, A Palace Upon the Ruins – Selected Works features the titular song cycle, sung by rising-star Jennifer Johnson Cano, winner of a 2014 George London Award, who is accompanied by players from New York's Bridgehampton Chamber Music Festival. For this cycle of six songs, Shore set lyrics by Elizabeth Cotnoir, whose words tell of "a promise never kept" as they explore feelings of "loss, awareness, healing and redemption." The album also includes two inspirational choral works. The first is "Peace," which Shore composed to texts by Eleanor Roosevelt, in a performance by Essential Voices USA Youth Workshop under Grammy-nominated choir director Judith Clurman. Next is "The Garden," with words by double Pulitzer Prize-winning author Robert Penn Warren; it features the 21st Century Chamber Choir, conducted by Swiss maestro Ludwig Wicki. The suite Six Pieces comprises a darkly lyrical sequence of instrumental and vocal settings, including the second movement performed by the multiple Grammy-winning Kronos Quartet, the third movement by 10 cellists from the RTÉ Concert Orchestra and the fifth by mezzo-soprano Clara Sanabras, voicing lyrics by Cotnoir; several movements for ensemble strings within Six Pieces were originally developed by Shore in collaboration with a string septet from the ever-esteemed Philadelphia Orchestra. The album's final work, "Catania," is a celebratory poem for solo piano written for the wedding of friends and performed by Lang Lang, one of the world's most popular pianists.
Howard Shore, born in Canada in 1946 and a resident of New York state, has collaborated with artists from pop-star vocalist Annie Lennox to free-jazz saxophone icon Ornette Coleman on his way to becoming one of the world's most lauded, in-demand composers, having written music for more than 80 films by some of the world's top directors – including 15 by David Cronenberg and five by Martin Scorsese, as well as the hugely popular The Lord of the Rings and The Hobbit trilogies by Peter Jackson. Among his other recent works for the concert hall are his cello concerto Mythic Gardens (2012) and Fanfare for the Wanamaker Organ in Philadelphia (2008). His opera The Fly recently completed a successful run at Germany's Theatre Trier. Shore's most recent music for film includes the score for Denial, based on the acclaimed book Denial: Holocaust History on Trial. In September 2016, Howe Records released a recording of the Denial score, which features Shore conducting the U.K.'s Royal Philharmonic Orchestra.
Shore was one of the creators of Saturday Night Live and served as the show's pioneering musical director from 1975 to 1980. Around the same time, he began his long-running collaboration with David Cronenberg, scoring The Fly, Crash and Naked Lunch. Reviewing the Howe Records reissue of the Naked Lunch score, DownBeat magazine described the music, featuring Ornette Coleman, as "darkly majestic," adding: "Shore's hallucinogenic score can make for cinema of the mind." And Listen magazine called Naked Lunch "one of the all-time great film scores." Shore earned Canadian Screen Awards for scoring Cronenberg's Maps to the Stars and Cosmopolis, while his scores for A Dangerous Method, Eastern Promises and Dead Ringers were each honored by a Genie Award.
In film, Shore has ranged from Martin Scorsese's Hugo (Oscar and BAFTA nominee), The Departed, Gangs of New York and The Aviator (for which the composer won his third Golden Globe Award) to Ed Wood, Se7en, The Silence of the Lambs (BAFTA nominee), Philadelphia, Mrs. Doubtfire and Tom McCarthy's Academy Awarding-winning Spotlight of 2015. Shore's three Academy Awards for the score to The Lord of the Rings included one for original song "Into the West" (shared with singer Annie Lennox and writer-producer Fran Walsh). In July 2016, Shore received the Locarno Film Festival's Vision Award. He is an Officier de l'ordre des Arts et des Lettres de la France and has also been recognized by his native Canada with the Governor General's Performing Arts Award. The National Board of Review of Motion Pictures honored Shore for Career Achievement in Music Composition; he also received The Recording Academy Honors; and the City of Vienna bestowed him with the Max Steiner Award.
Upcoming Concerts: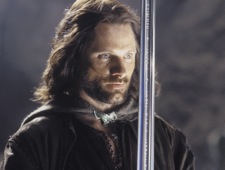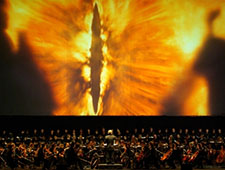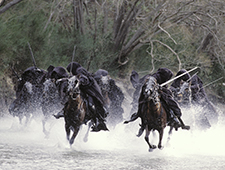 The Fellowship of the Rings
Live to Projection