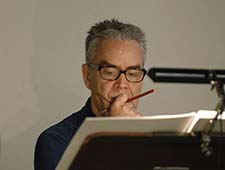 Boston Globe Interview with Howard Shore

'Lord of the Rings' composer Howard Shore counts his achievements by the score
By Ed Symkus GLOBE CORRESPONDENT  APRIL 12, 2017
https://www.bostonglobe.com/arts/music/2017/04/11/lord-rings-composer-howard-shore-counts-his-achievements-score/bgif4tXAlobM4NNLwaes7H/story.html
Prolific film composer Howard Shore has stacks of Oscars and Golden Globes and Grammys honoring the music he wrote for Peter Jackson's "The Lord of the Rings" trilogy. But he'd been practicing the craft for almost a quarter of a century by the time he won them. He's been David Cronenberg's go-to man on 15 films, starting with "The Brood" in 1979; Martin Scorsese hired him for "After Hours" in 1985 and most recently had him score "Hugo" in 2011. Shore also provided the music for Tom McCarthy's "Spotlight."
But Shore, 70, a Toronto native and Berklee College alumnus who's been a New Yorker since his five-year run as the original musical director for "Saturday Night Live," is currently between films. He's too busy with other music: writing a song cycle for the Toronto Symphony, composing a piece for the New Brunswick Youth Orchestra, putting together a retrospective of works from different periods of his career. He'll be in Boston on April 19 to attend a performance by the Berklee Contemporary Symphony Orchestra of "The Lord of the Rings Symphony," his two-hour instrumental and vocal tour de force that he whittled down from the scores of the three films. He'll be on the stage of Berklee Performance Center the next morning presenting a clinic on film composition. Shore spoke about his love affair with music by phone from New York.
Q. You were a kid listening to rock 'n' roll and jazz in the '50s and '60s. What got you interested in symphonic and film music?
A. There was a music library in Toronto, and I started taking out vinyl records of concert and symphonic music when I was a teenager. That's where I discovered [film composers] Tôro Takemitsu, Georges Delerue, and Nino Rota. But before that, when I was around 10, I remember my mother taking me to see "The Ten Commandments." Seeing this glorious epic on the big screen, and hearing the Elmer Bernstein music, that was maybe the first time that I thought, "Wow! This is really spectacular!"
Q. Weren't you already writing music by that time?
A. I started playing the clarinet when I was 10. I took lessons from Morris Weinzweig, who thought the young clarinet student, besides learning the clarinet, should learn counterpoint and harmony. So he had me writing out of a primer and doing exercises with a pencil. I also studied other instruments. I made a living playing saxophone for years, and at Berklee, I studied piano, trumpet, and cello. But the pencil has just kept going all these years.
Q. You had a circuitous route to scoring for film: studying composition at Berklee, joining the rock-jazz band Lighthouse, writing music at the Canadian Broadcasting Corporation (CBC), composing music and acting in skits on "Saturday Night Live." Take me though all of that.
A. I knew ["SNL" creator] Lorne Michaels when we were both at Camp Timberlane in northern Ontario. There was a coed dance each Saturday, and a group of us would do improvisational comedy and lip synching, and we would read poems and act them out. Coincidentally it was a live show on Saturday night. Years later, when I moved back to Toronto, I was with Lighthouse for four years, and I went to the CBC, said I was a songwriter and that I would like to write for the broadcasts. They gave me a small office, and eventually they put me to work in radio, where I composed music for comedies and dramas and documentaries. I later went into television with Lorne, and we did variety shows. Then Lorne got "Saturday Night Live."
Q. Your first movie credit was for "I Miss You, Hugs & Kisses" in 1978. How did that happen and how did you hook up with David Cronenberg?
A. I don't remember how that first film happened. But I was a fan of David's work. He lived in Toronto, and because I had done that one film, I approached him. He'd seen the film and heard my work in it. I don't know if he liked it, but I guess he thought, "Maybe this guy's OK; I'll give him a try."
Q. What led to the "Lord of the Rings" scores being turned into a symphony?
A. I first conducted it in New Zealand in 2003. It's a six-movement piece: two for "Fellowship," two for "Two Towers" and two for "Return of the King," whereas the complete score is about 12 hours. I was editing the complete recordings down into smaller pieces, and I had good help from the conductor John Mauceri, who was a great sounding board for me. It took about a year to edit that much music down to the six movements, but it's still very narrative and it tells the story in a lot of detail. I conducted it maybe 50 more times all over the world. Then I put the baton down and picked up the pencil again.
Q. What's going to happen at the Berklee clinic?
A. I take scenes from some of my films, I show those scenes, and then I discuss them. So we'll show "Silence of the Lambs," "Se7en," "Ed Wood," "The Two Towers," and "Naked Lunch." I talk about things like point of view, the use of silence, and orchestration, and I use examples to express different ideas that I've developed over the years in terms of film music. I'm happy to pass along ideas and concepts that I've used in the course of my writing.
THE LORD OF THE RINGS SYMPHONY
Conducted by Markus Huber. Performed by the Berklee Contemporary Symphony Orchestra. At
Symphony Hall, April 19 at 8 p.m. Tickets: $43.50-$92.50, 888-266-1200, www.berklee.edu/events
HOWARD SHORE CLINIC
At Berklee Performance Center, April 20 at 11 a.m. Free. For details: 617-747-2261
https://www.berklee.edu/events/howard-shore-clinic
Ed Symkus can be reached at esymkus@rcn.com.
You may also like
Upcoming Concerts: