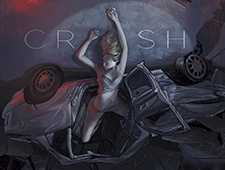 CRASH on Vinyl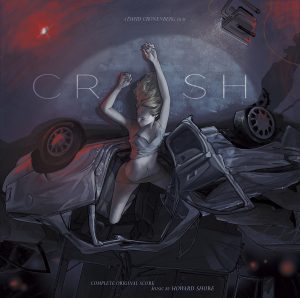 New Music Release: CRASH Original Motion Picture Soundtrack
On JULY 27, 2016 MONDO will finish their David Cronenberg / Howard Shore campaign with the release of their third soundtrack, the 20th anniversary expanded edition Crash soundtrack.
As always, all new releases go on sale on Wednesdays at 12PM (CST).
http://mondotees.com/blogs/news/new-music-release-crash-original-motion-picture-soundtrack
Crash – Original Motion Picture Soundtrack 2XLP. Music by Howard Shore. Artwork by Rich Kelly. Pressed on 180 Gram Chrome colored Vinyl (limited to 1,000 copies). Also available on 180 Gram Black. Featuring liner notes by Russ Fischer and etched D-Side. $35
Mondo is proud to present the third of our Cronenberg / Shore summer trilogy: the 20th anniversary release of Howard Shore's score to David Cronenberg's Crash. Crash is an utterly audacious piece of work from Shore, using 6 electric guitars, 3 orchestral harps, 3 woodwinds and 2 percussionists. Shore crafts a meticulous sonic landscape.
Based on the novel by J.G. Ballard, Crash deftly explores the complex interpersonal relationships of a select few, who find themselves colliding head-on with the world of car-crash fetishism. Crash is the first Cronenberg film to premiere at Cannes. John Bender wrote "Shore's calculated instrumentation, mostly electronically manipulated guitars, harps and percussion, give Crash a cold and burnished metallic sound." The perfect companion to an uncompromising filmmaker like David Cronenberg.
Celebrating the 20th anniversary of this complex film, Mondo and Howe Records are pleased to present Howard Shore's score for Crash for the first time ever on vinyl, with original artwork by Rich Kelly.
CRASH: http://mondotees.com/blogs/news/new-music-release-crash-original-motion-picture-soundtrack
Also Available:
You may also like
Upcoming Concerts: