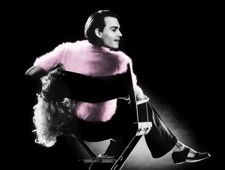 Ed Wood
This 20th anniversary collector's edition of Howard Shore's score for Ed Wood has been remastered, repackaged and includes 4 bonus tracks that were not included on the original release.
Ed Wood, the award-winning film by Tim Burton, is an homage to an innovative era of filmmaking when there were no limits to imagination. Shore composed, orchestrated and conducted the score inspired by Sci-fi and B-movies from the 1950's. The work is wonderfully strange and punctuated with Afro-Cuban rhythms and strikingly poignant moments that capture the highs and lows of the life, work and passion of Edward D. Wood Jr.
Performed by the London Philharmonic Orchestra, the score also highlights the great playing of the brilliant Russian Thereminist Lydia Kavina (the grand-niece of the inventor Léon Theremin).
1. Main Title
2. Backlot
3. Mr. Lugosi/Hypno Theme
4. Beware
5. Glen or Glenda
6. Eddie, Help Me
7. Elmogambo
8. Bride Of The Monster
9. I Have No Home
10. Kuba Mambo
11. Nautch Dance
12. Angora
13. Sanitarium
14. Ed & Kathy
15. Elysium
16. "Grave Robbers" Begins
17. Lurk Him
18. Ed Takes Control
19. Eddie Takes a Bow
20. This is the One
21. Ed Wood (video)
BONUS TRACKS
22. Brown Derby
23. I'm The Director!
24. Back To Work
25. Elmogambo Jazz (piano version)
You may also like
Upcoming Concerts: