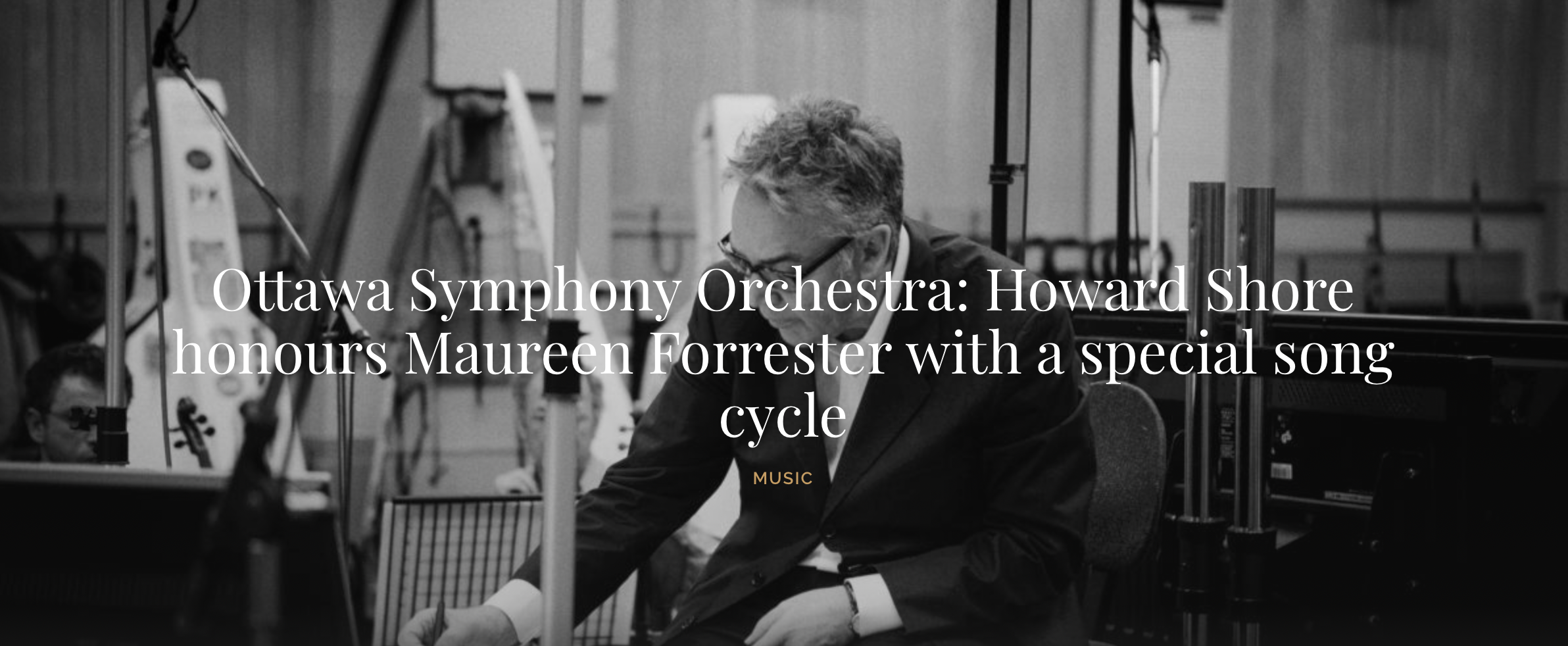 Interview with artsfile.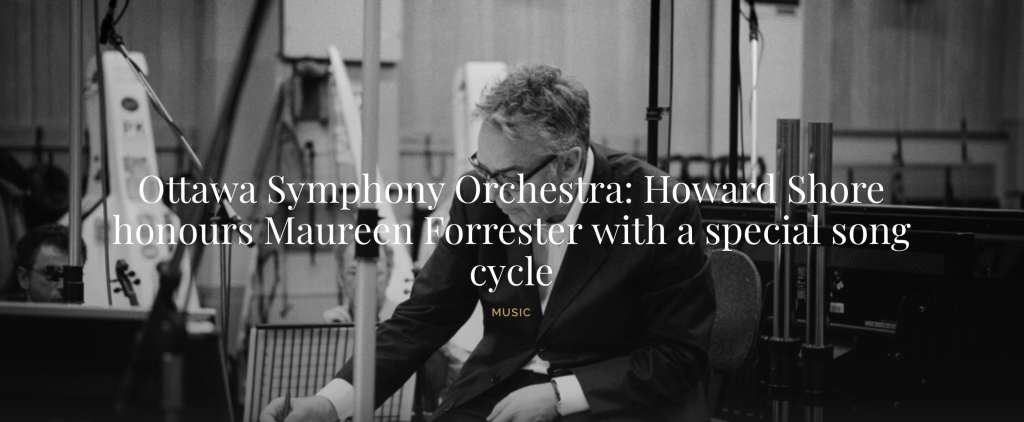 http://artsfile.ca/ottawa-symphony-orchestra-howard-shore-honours-maureen-forrester-with-a-special-song-cycle/#
Ottawa Symphony Orchestra: Howard Shore honours Maureen Forrester with a special song cycle
WRITTEN BY PETER ROBB
November 14, 2017
The legendary composer Howard Shore has just recently had his magical career in film celebrated by the Cinémathèque Française in Paris. He was fêted at a party and several films featuring his work were screened subsequently.
"That felt a little heavy. They did a whole night with me. It was quite wonderful," he said in an interview.
With 80 films on his resumé, including The Lord of the Rings and Spotlight, three Oscars, four Grammys and two Golden Globes, Shore has had the kind of career few can dream of. He's worked with the best including scoring 15 films for David Cronenberg and six for Martin Scorsese. You might think that would be enough for a career. But it is only part of his immense bibliography of music.
He's written, among many things, an opera The Fly, a piano concerto Ruin and Memory for the Chinese piano virtuoso Lang Lang and a cello concerto, Mythic Gardens, for Sophie Shao. He has also focussed a lot of energy on writing for mezzo sopranos which brings us to Nov 20 and a performance of his latest work L'Aube (The Dawn) which will be performed by the Ottawa Symphony Orchestra as part of a tribute to the legendary Canadian mezzo Maureen Forrester.
This latter work was requested by the Toronto Symphony Orchestra as part of its massive Canada 150 project commissioning new works.
Shore says he was approached "to write something. I think I suggested that I write for mezzo and orchestra and I suggested a song cycle."
The idea of honouring Forrester emerged later, he said. The work was performed by the TSO on Oct. 19. Part of the commission includes a pairing with another musical organization and a second performance of the work. In this case, that's the OSO.
On the programme is a piece that is forever connected to Forrester, Mahler's symphonic song cycle Das Lied von der Erde.
Shore says he was aware about the plan for the Mahler piece and decided that his offering should be set in French. The text was written by his partner Elizabeth Cotnoir.
Shore likes working with different languages. He's written song cycles that feature German, Latin and English.
"I think it's the sound of the languages that appeals to me. I like working with German but I didn't want to use another German text to be performed alongside the Mahler. Coming as a commission from Canada it made sense to use French."
The text is Cotnoir's She is principally a poet, but she has worked in film and television. She co-wrote the song, Cœur Volant, with the French singer Zaz and which was part of Martin Scorsese's film Hugo, for which Shore's score was also nominated.
Shore says L'Aube is written in a complementary style to the Mahler work.
"It's probably relatable in terms of how counterpoint is used and the voice is used while the orchestration is quite different. Still there is definitely a connection between the two cycles."
Shore works regularly with Cotnoir.
"It is really fun having somebody close that you can check ideas with. That's especially important when you are working in different languages."
The two met when Shore had a studio in the legendary Brill Building in New York.
"She was working on a production. Elizabeth's family goes back many years in Quebec, so there is a strong Canadian connection. I met someone in New York who is part of French Canada," he said.
Shore's love of languages dates from his work on the Peter Jackson trilogy The Lord of the Rings.
"I got used to working with different languages then. I was working with Tolkien's languages."
In that process, he said, he worked with a translator and a linguist.
"They taught the choir to sing correctly, phonetically, in Anduin and other Tolkien languages."
Shore has an affinity in writing for the voice generally.
"When I was studying composition in Boston I was a student of John Bavicchi who was known as choral composer. A lot of my writing for voice must have rubbed off from him. It feels very natural for me.
"When I was working on Lord of the Rings, which is essentially a choral piece using children's choir and soloists, I found myself being very comfortable with orchestra and voice. The led into the opera The Fly."
The Lord of the Rings was a favourite experience.
"I liked the relationships. Frodo's with Sam; it was the heart of the movie and Frodo's relationship with Gandalf. You could write those pieces and expand from that to the whole story. You needed to find those really important moments between the characters. Even though it was a vast canvas to work on, it was these small moments that were became very important."
Shore's vocal interests go back a long way. Shore was a boy chorister and was singing at age seven, eight and nine at West Preparatory school in Toronto. He says he took an aptitude test at that time, the Seashore test of musical ability.
"I must have scored high enough that they thought I made the grade. So I got a clarinet and started learning counterpoint and harmony quite young." That's because his teacher was Morris Weinzweig, the younger brother of the Canadian composer John Weinzweig.
"He thought his young students should learn counterpoint and harmony. He gave me these primers and I started writing music at a young age. I never really stopped. I studied a lot of instruments but the pencil kept going.
"I talked to the illustrator John Howe who did all these great Tolkien illustrations and asked him, 'How do you do all these drawings every day. He said 'Just keep the pencil moving.' I always remember that. With music it is the same. If that pencil is moving you will write a lot of moving. It's inevitable.
"So I focused on the page. I have been writing since I was nine and 10. I started writing short pieces at 12, 13 and I just kept the pencil going. I was writing for every combination of instruments I could."
When Shore started writing for film in the 197os he thought it was a way to gain access to orchestras and recordings.
Over the decades, Shore says, film composition has been very important.
"I'm reading wonderful book about Shostakovitch called The Noise of Time by Julian Barnes. And he mentions in the book that Shostakovitch played for silent films in Leningrad.
"Film has always had good composition. Copland, Bernstein, even Stravinsky was interested in it. Lots of great English composers wrote for film. Saint-Saëns wrote music for early silent films."
The other thing that is evident in the work L'Aube is a deep love and commitment to nature that Cotnoir and Shore share.
The couple live in an oak wood in the Hudson River Valley in Orange County north of New York City.
"We live in a beautiful forest on a lake, with a lot of rock outcroppings."
The lanscape reminds him of the Haliburton region where he would spend summers as a boy.
"We have a really strong connection to nature."
L'Aube opens (in translation) with:
"Here at the edge of the woods we stand,
The vivid expanse before us.
Through the darkness of the unknown
We come upon a place
Green with life.
A vista of ancient landscapes.
We root into this new earth."
Shore says he and Cotnoir are out every day in the forest.
"We feel like we are protectors of it. We have lived here a long time now and I have found that the music has improved as the garden has improved. As we restored areas around us with rock walls or gardens or managing trees in the forest, I could see my music was being affected by beauty of nature and changing of seasons."
He works around the world, such is the nature of the global film industry.
He says he is always looking for different ways to use musical ideas in film.
The director that he has worked with the most is Cronenberg whom Shore has known since he was 14
"I actually met him through his films. He made 8MM and 16MM films as a teenager experimental films. I would seem them in underground festivals. I had seen most of his early films before I even approached him to work on one of his films. That was The Brood in 1978."
A Tribute to Maureen Forrester
Ottawa Symphony Orchestra
When: Nov. 20 at 8 p.m.
Where: Southam Hall, NAC
Tickets and more information: ottawasymphony.com
You may also like
Upcoming Concerts: