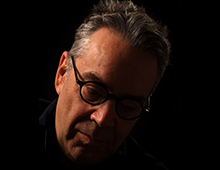 Interview with Colonne Sonore
http://www.colonnesonore.net/contenuti-speciali/interviste/4908-for-the-love-of-music-interview-with-howard-shore.html
For the Love of Music: Interview with Howard Shore
Scritto da Maurizio Caschetto. Pubblicato in Interviste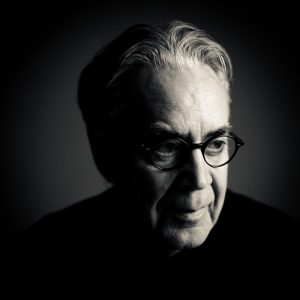 It's always very interesting to see a composer mostly known for his work for film tackling the world of the music for the concert hall (or, as someone call it, "absolute music"). Composer Howard Shore is certainly well-accustomed to the peculiarities and the needs of concert hall music, having always balanced his artistic life equally in film and other mediums, including the concert stage. However, in recent years, Shore wrote quite a lot of music for the concert hall and in the last months he released two albums completely dedicated to his concert music, A Palace Upon the Ruins: Selected Works (Howe Records) and Two Concerti (Howe Records/Sony Classical). The first album is a collection of chamber music written over the span of more than a decade that Shore decided to finally collect on a single CD, while Two Concerti presents the world premiere recordings of two large-scale works, the Piano Concerto 'Ruin and Memory' and the Cello Concerto 'Mythic Gardens'. These two CDs offer a truly fascinating perspective on Shore's "private" music, showing both his lyrical, almost romantic side and his darker, more modern voice. But even more than that, both albums show a composer with a very unique, unmistakable musical personality, a voice very much of his own.
Howard Shore accepted to talk once again with ColonneSonore.net to offer some insight about these works.
ColonneSonore: Howard, thank you for speaking with us again. Let's talk about the genesis of these two works, the Piano Concerto 'Ruin and Memory' and the Cello Concerto 'Mythic Gardens'. How and when these two pieces come up to you?
Howard Shore: The Piano Concerto was a commission from the Beijing Music Festival, specifically from Long Yu, the main conductor and music director of the Festival. It was commissioned for the 200th anniversary of Fryderyk Chopin's birth, so it's a very Chopin-inspired piece. It was written specifically for the pianist Lang Lang, who performed it at the premiere in 2010 with Long Yu conducting the China Philharmonic Orchestra. The Cello Concerto, Mythic Gardens, was a commission from the American Symphony Orchestra (ASO). Music director Leon Botstein conducted the premiere and the piece was written for cellist Sophie Shao. I wrote it as a companion piece for the Piano Concerto, so naturally it's a very Chopin-inspired composition as well.
CS: I'd love to talk about the language of these works. They're written in a very Romantic, tonal style. There's almost a Neoclassical feeling all throughout. Did you choose this specific language from the beginning? Or was it more of a natural consequence of writing for a specific soloist?
HS: It all had to do with the Chopin commission for the Piano Concerto, which is surely written in a Neoclassical style and reflects Chopin's music for the piano. The Cello Concerto, as I mentioned, was written as a companion piece so that they could be played together in the same program. I recently finished a Guitar Concerto which uses a completely different language, so depending on the commission I might do different things compositionally.
CS: Did you find it challenging to write in this specific style or language or was it very spontaneous and natural?
HS: It felt pretty natural. It was something I wanted to do for a while. I like working with the artists. I loved working with Lang Lang, he's such a fantastic pianist, and Sophie Shao as well. It's really pleasurable for the composer to work with the artists and write a piece specifically for them.
CS: So was there a lot of back and forth between you and the soloist while you were writing it?
HS: No, not really! (laughs) I wrote the pieces for them after I watched them play. I went to their performances, observed their breathing, listened to their recordings, you know. I wrote the pieces for them, but I didn't have a lot of input compositionally from the performer. I just watched how they perform and how they relate to their instrument, the piano and the cello.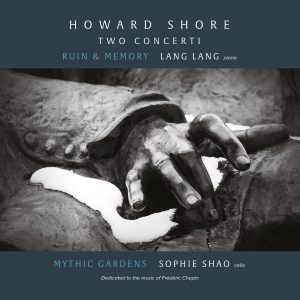 CS: The Piano Concerto is titled "Ruin and Memory" and it's dedicated to the memory of Chopin, as you mentioned. Did you feel the composer's presence lingering in the background when you were writing?
HS: Yes, very much. "Ruin and Memory" is a reflection on Chopin's life. It's about where he was born, about his struggle with his work as an artist and also the "ruin" of his world that happened. So the title is reflecting more about his life than my memory of him. It's about the personal struggle that he went through.
CS: I guess it's always very challenging for a composer to write for such an iconic instrument. Did you ever feel that you had to confront yourself with the classical literature for piano?
HS: I think it was a very personal affair—it's a personal journey about my relationship with the piano, the tactile nature of the instrument. I'm not a pianist, so I approached it purely compositionally. There's a video that was filmed a few years ago called "A Composer's Dream" where I talk about these things, about my relationship with the piano.
CS: Talking about the Cello Concerto, there is a specific Italian motif at the basis of the composition. You picked these three gardens and villas from the 18th century (Villa Cimbrone, Villa Medici and Villa Visconti Borromeo Litta), so the concerto seems like a very personal journey through nature and natural beauty. How and why did you pick these specific locations for inspiration?
HS: They're places that I visited and that I love. A lot of my writing is about nature, especially the Tolkien writing and I think my connection to Tolkien was mainly through nature—The Lord of the Rings is a piece about everything green and good, it's the struggle for preservation of nature over the industrialization. So nature is very important to me. I live in a beautiful garden and I'm always inspired by nature. The Cello Concerto was written in that sense, I thought about those Italian gardens and I wrote it based on the beauty of those locations.
CS: In the other CD of your concert works that was recently released (A Palace Upon the Ruins: Selected Works) there's a choral piece called "The Garden" and there seems to be another reflection about nature in that piece as well.
HS: Yes, very much so. That piece was set to a poem written by the great American poet Robert Penn Warren. I do tend to love to write with nature as inspiration. Even the song cycle "A Palace Upon the Ruins", although quite dark, has that natural element to it.
CS: The song-cycle "A Palace Upon the Ruins" and the suite titled "Six Pieces" both represent a very different side of your compositional world. They're more modern in terms of language and show your darker, more wistful musical personality. A few selections of "Six Pieces" could recall some of your work for the films of David Cronenberg.
HS: All the works in the album were composed over a period of time, I'd say probably over the course of ten years, perhaps even more. Some of the selections in "Six Pieces" are probably the oldest of those recording—I think the movement performed by the Kronos Quartet might be the oldest of all, compositionally. The choral pieces ("Peace" and "The Garden") are rather new, they were both written in the last few years. "A Palace Upon the Ruins" and "Catania" are also relatively new pieces. So I think "Six Pieces" is probably the one I waited quite a while to release.
I have other works coming out on CD, I want to release more concert pieces in the future. Some of them are already recorded, while others are yet to be recorded. It's an ongoing process of mine now, you know, to release these works that I've been writing over the years. I've been writing chamber music for years and years since I was a kid, but I didn't always release it.
CS: You always had a very balanced artistic life, writing for both films and the concert hall. You're actually one of the very few that achieved a successful career in both fields. Is it difficult to achieve this kind of balance?
HS: I think it's always about the music for me. My love is music, so I'm always looking for opportunities to express different ideas in music. I'm working on two different commissions right now and they're stretching me further. I think of it as a continuous process. Some [of the music] might be for film, some for the concert stage, but it's always the work of one composer. You mentioned that some of the "Six Pieces" might recall my work for Cronenberg, but it could have been the other way around. It's really the work of one composer who writes music pretty much every day, so the work manifests itself in different ways, might be a film I'm working on, or it might be a concert piece, or even another type of media. I've done a lot of different things over the years.
CS: So you never struggled with what Miklòs Ròzsa once called "the double life" syndrome…
HS: (laughs) No, I feel I have enough expression in various means, you know, whether it's for the concert stage or exclusively for a CD recording of my work, or it could be a film or television. Whatever I'm working on, I focus on that.
CS: So what are you working on right now? Can you hint at something of what we can expect from you in the near future?
HS: The Guitar Concerto is finished. It's written for Miloš Karadaglić, the great Montenegrin guitarist. I hope for a premiere very soon, he's rehabilitating his hands right now.
At the moment I'm writing a new song-cycle for the Toronto Symphony Orchestra which will be premiered in October—I was working on it this morning and it's scored for orchestra and mezzo-soprano. I also wrote a new anthem for the New Brunswick Youth Orchestra which will be premiered this summer in Moncton, New Brunswick, Canada. Also, Naked Lunch will be performed live at the Lincoln Center Festival in New York in the summer as a tribute to Ornette Coleman. I'm very excited about that.
Then next October in Paris there will be a concert of my music at Salle Pleyel. It's a similar program to the one we did with the Pittsburgh Symphony Orchestra last year, but I'm adding more music, a piece from Hugo and also pieces from the films of Arnaud Desplechin. I'm also going to Krakow for the Film Music Festival to accept the Wojciech Kilar Award, I'm very happy about that too.
And then I'm continuing doing my lectures, I have one coming up in Oxford, England and one in Rome at Centro Sperimentale di Cinematografia in June and I hope to do one in Paris in October—I just gave one at New York University which is being published by Illinois University Press.
CS: And this June 21st & 22nd at Sala Santa Cecilia in Rome, there will be performances of The Fellowship of the Ring live to projection with the Santa Cecilia Orchestra.
HS: Yes. I'm very excited about that. I hope to see you there!
CS: Us too! We'll definitely be there. Thank you once again for your kindness and generosity, Howard.
HS: Thank you!
http://www.colonnesonore.net/contenuti-speciali/interviste/4908-for-the-love-of-music-interview-with-howard-shore.html
You may also like
Upcoming Concerts: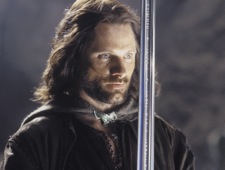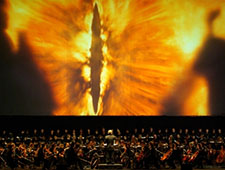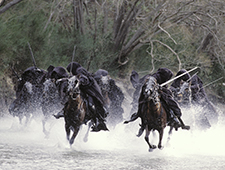 The Fellowship of the Rings
Live to Projection