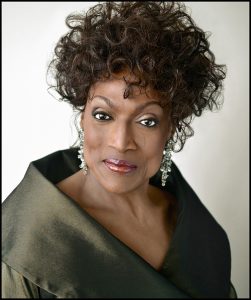 http://www.glenngould.ca/12thprizejessyenorman/
One of the great singers of her generation, renowned for her extraordinary voice and musical versatility, American opera singer and recitalist Jessye Norman has been chosen as the Twelfth Glenn Gould Prize Laureate. Throughout her career, the sheer size, power and luster of her voice has shared equal acclaim with that of her thoughtful music-making, innovative programming of the classics, and fervent advocacy of contemporary music. More than forty years after making her operatic debut, Jessye Norman continues to maintain a busy performance schedule, now concentrating on recitals and concerts.
It is with the utmost humility and gratitude that I accept this magnificent honor, The Glenn Gould Prize. I was thrilled to have answered the telephone myself and to have heard this most wonderful news first hand! My admiration for the artistic genius of Glenn Gould began very early on in my studies and was further supported in my having had Walter Homburger as the first presenter to invite me to perform in Canada. His work with Glenn Gould is of course, legendary," stated Jessye Norman. "It was he who made certain that I could experience on film the music of Bach played by a master of the keyboard and intellect of the highest order. Thank you, Walter. Thanks to The Glenn Gould Foundation. To have been chosen to receive this auspicious recognition is quite simply breath-taking!
– Jessye Norman,
Twelfth Glenn Gould Prize Laureate
Jessye Norman, one of the world's most celebrated performing artists, is acclaimed for her performances in a wide range of leading roles with the world's premier opera companies, in solo recitals and in concerts of her cherished classical repertoire with preeminent orchestras all over the globe, as well as her latest artistic expansion with her jazz ensemble.
Her extensive programming includes songs from the American musical theater, which she has entitled: AMERICAN MASTERS. Another program: THE DUKE, THE MONK AND THE DIVA: a tribute to music of Duke Ellington and Thelonious Monk. The electicsism continues with her participation in fully-staged performances of the music of John Cage.
She is the recipient of many awards and accolades including some forty honorary doctorate degrees from colleges, universities and conservatories around the world, five Grammy awards including the 'lifetime achievement award', the National Medal of the Arts received at the White House from President Obama in 2010 and is a Kennedy Center Honors recipient.
Her community service includes trustee board memberships of The New York Public Library, Carnegie Hall, The Dance Theatre of Harlem and The New York Botanical Gardens.
She is called upon often to speak to her passionate involvement and advocacy of arts education. The Jessye Norman School of the Arts in Augusta, Georgia, is a tangible, living opportunity to address the need for education in the arts in the town where her own studies and training began.
We had a very thorough series of discussions that helped us to gradually narrow down an impressive list of nominees, always bearing in mind Glenn Gould's legacy and impact as a unique artist. The day long winnowing process became increasingly challenging as we got down to a handful of finalists, but we were united in our admiration for the Twelfth Glenn Gould Prize Laureate, the incomparable Jessye Norman.
– Viggo Mortensen,
Twelfth Glenn Gould Prize Jury Chair
Twelfth Glenn Gould Prize Jury
Back Row: Professor Ye Xiaogang (China), Sondra Radvanovsky (Canada / USA), Foday Musa Suso (Gambia/USA), The Right Honourable Beverley McLachlin, PC (Canada), Naeemeh Naeemaei (Iran), Howard Shore, OC (Canada)
Front Row: François Girard (Canada), Viggo Mortensen (Denmark/USA), Ute Lemper (Germany)
More info and bios here.
All of us at The Glenn Gould Foundation are beyond thrilled at the inspired selection made by this year's jury, Jessye Norman. She is undoubtedly one of the great vocal artists of our time, or any time but so much more. Her career has provided a positive role model for countless artists coming from disadvantaged circumstances as she did and overcoming the very real racial barrier that thwarted so many careers. Her triumph is an expression of the power of art to transcend all human boundaries.
– Brian Levine,
Executive Director, The Glenn Gould Foundation
Photo Credits: Jessye Norman – Sneakpeek Photography, Twelfth Glenn Gould Prize Jury – Kenneth Chou Photography