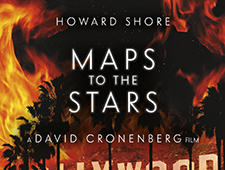 Maps to the Stars CD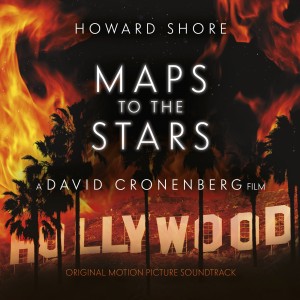 MAPS TO THE STARS
ORIGINAL MOTION PICTURE SOUNDTRACK
Available now at iTunes & Amazon or from your preferred retailer.
Celebrating 35 years since their first collaboration, MAPS TO THE STARS is the 15th David Cronenberg film to feature music by Howard Shore. The film marks the fifteenth feature film collaboration between the director and the composer.
Winner of the 2014 Cannes Soundtrack Award this past May, MAPS TO THE STARS was given the award for the original score best suited to a feature film in official competition by a jury of 15 critics.
"Shore delivers one of his best scores yet… a menacing undertow that picks up on some of the ethnic, New Age sounds of the world it depicts, but shifts them into Clockwork Orange territory," said Lee Marshall of Screen Daily.
The film MAPS TO THE STARS connects the savage beauty of writer Bruce Wagner's Los Angeles with the riveting filmmaking of director David Cronenberg and a stellar ensemble cast to take a tour into the darkly comic heart of a Hollywood family chasing celebrity, one another and the relentless ghosts of their pasts. The result is a modern Hollywood Gothic at once about the ravenous 21st Century need for fame and validation — and the yearning, loss and fragility that lurk in the shadows underneath. The film stars Julianne Moore, Mia Wasikowska, Olivia Williams, Sarah Gadon, Evan Bird, John Cusack, and Robert Pattinson.
You may also like
Upcoming Concerts: