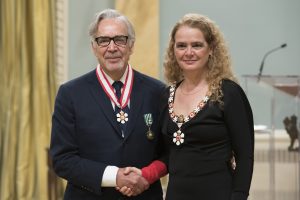 Order of Canada Investiture Ceremony / Cérémonie d'investiture de l'Ordre du Canada
10/05/2018
Ottawa, Ontario, Canada
Her Excellency presents the Officer insignia of the Order of Canada to Howard Leslie Shore, O.C..
Her Excellency the Right Honourable Julie Payette, Governor General of Canada, invested 3 Companions, 12 Officers and 30 Members into the Order of Canada during a ceremony at Rideau Hall, on Thursday, May 10, 2018.
Son Excellence présente L'insigne d'Officier de l'Ordre du Canada à Howard Leslie Shore, O.C..
Son Excellence la très honorable Julie Payette, gouverneure générale du Canada, a remis l'Ordre du Canada à 3 Compagnons, 12 Officiers et 30 Membres lors d'une cérémonie d'investiture à Rideau Hall, le jeudi 10 mai 2018.
Credit: MCpl Vincent Carbonneau, Rideau Hall, OSGG
Mention de source : Cplc Vincent Carbonneau, Rideau Hall, BSGG