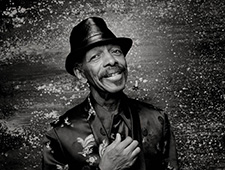 Ornette Coleman: A Jazz Visionary Ready for Prime Time
Denardo Coleman and Howard Shore talk with Steve Dollar about Naked Lunch and the Ornette Coleman Series at Lincoln Center Festival.
NAKED LUNCH
Live to Projection
Lincoln Center Festival
July 11, 2017 at 7:30pm
Alice Tully Hall
Tickets available at: http://www.lincolncenter.org/lc-festival/show/naked-lunch-with-live-orchestral-accompaniment
The original article appears at:
http://www.nbcnews.com/news/nbcblk/ornette-coleman-jazz-visionary-ready-prime-time-n779871
Revolutionary composer Ornette Coleman died two years ago at age 85, his unorthodox ideas, liberated approach to collective improvisation and ear-worm melodies having forecast "the shape of jazz to come," to borrow a phrase from one of his early album titles.
On a recent afternoon at his old loft on West 36th Street in Manhattan's Garment District, however, Coleman's spirit was alive and well. His son Denardo Coleman had convened members of the bandleader's electric ensemble Prime Time, eagerly rehearsing songs they had first played as far back as 35 years ago.

"It feels, actually, like we haven't missed a day," said Prime Time member Charles Ellerbee, cradling his guitar in the soundproofed rehearsal alcove, crowded in a circle with his old bandmates. "We're not going back to anything. You take what you learned and you go further with it. This is not an 'oldies-but-goodies.'"
The wide-ranging music made by the elder Coleman – an influence not only on generations of jazz artists, but on punk bands and chamber orchestras alike – is celebrated July 11-16 at the Lincoln Center Festival in New York under the banner "Tomorrow Is the Question!", the title of a 1959 album.
The shows focus on later music that reached beyond the groundbreaking acoustic jazz the saxophonist made in the 1960s. They include performances by both editions of his electric, funk-inflected band Prime Time; the first North American performance of the score to David Cronenberg's 1991 film "Naked Lunch," with a 55-piece orchestra; and an afternoon of the Pulitzer Prize-winning composer's chamber music, performed by the contemporary music group Ensemble Signal.
"We want to present the full spectrum of my father's work," said Denardo Coleman, who began playing drums behind his father at age 12, and became steeped in the elder Coleman's musical philosophy of harmolodics.
The theory is tricky to explain, although it is designed to democratize the relationship between melody, harmony and rhythm. "It's beyond jazz, they're finding out it's quantum physics," said Al McDowell, who played bass in various Coleman ensembles for three decades. "He changed my whole concept of how to play melodies," added Calvin Weston, who began drumming with Coleman as a teenager. "He changed my whole way of thinking."
Even in his teens, Coleman already was an original.
The native of Fort Worth, Texas, was playing in New Orleans when Kidd Jordan first discovered him. "I was a youngster, standing on a box, looking through the window," recalled the saxophonist, now 82, who has recorded with everyone from Ray Charles to R.E.M, and joins Prime Time as a special guest. "He was playing with a blues singer named Clarence Samuels, I guess I was in fifth or sixth grade. When I heard Ornette, I knew it was something different."
The festivities lead off with an orchestral performance to a screening of "Naked Lunch," Canadian filmmaker Cronenberg's suitably hallucinatory adaptation of the drug-infused novel by Beat Era icon William S. Burroughs. The project united Coleman with prolific movie composer Howard Shore, who first met the musician in the late 1970s when he booked Prime Time for "Saturday Night Live," where he was music director.
Coleman was a natural collaborator for Shore, who felt a kinship with his method. "I use a lot of improvisation in work I've been writing for years, as a kind of inspiration, a way to bring ideas out," explained the four-time Academy Award winner. "He built a whole world in his sound, and captures the spirit of Burroughs's writing, the humor, the drama and all the elements."
In place of Coleman's alto saxophone, guest performers Ravi Coltrane and Henry Threadgill will play a range of reed and wind instruments. "It's hard to recreate that," Shore continued, "but we can play a piece in the spirit of Ornette that will evoke his work and legacy."
The concerts will be bittersweet. Coleman was among an elite and diminishing circle of jazz's canonical figures. But the sudden death of Prime Time guitarist Bern Nix, who was due to join the reunion, had made an impact too. (Geri Allen, a much-admired jazz pianist who had worked with Coleman in the 1990s, also died recently).
"It adds a lot of emotion to the situation," said Denardo Coleman, who also acknowledged the significance of gathering in his father's space, walls awash in vivid colors and striking, surreal art. "Even as we're playing today, I can hear him all over it," Coleman said, "and also understanding that if he was here, he would take the music to a whole 'nother place."
By Steve Dollar
You may also like
Upcoming Concerts: