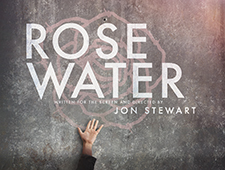 Rosewater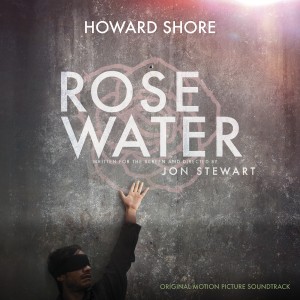 ROSEWATER ORIGINAL MOTION PICTURE SOUNDTRACK
Available now digitally from: iTunes and Amazon.
Physical will be released on December 9th, 2014.
Featured in TuneCore's "New Music Today" Blog post: http://www.tunecore.com/blog/2014/11/new-music-tuesday-nov-11-2014.html and Facebook post: https://www.facebook.com/TuneCore/
Soundtrack features Howard Shore's original music for the film by Jon Stewart plus songs by Leonard Cohen, 25 Band, and Mahdyar Aghajani
Howe Records is pleased to announce the release of the ROSEWATER (Original Motion Picture Soundtrack), available digitally on November 11 and on CD December 9, 2014. Director Jon Stewart turned to composer Howard Shore to compose the original music. In addition to Shore's score, the album includes tracks from musicians Mahdyar Aghajani, 25 Band, and Leonard Cohen.
"I was happy to be able to contribute to this important story which also gave me the opportunity to collaborate with Jon and this group of gifted classical musicians," said Shore.
Academy Award®-winning composer Howard Shore is among today's most respected, honored, and active composers and conductors. He has scored over 80 films. He began collaborating with David Cronenberg 35 years ago, with 1979's THE BROOD, and has since scored 15 of the director's films including: THE FLY, DEAD RINGERS, NAKED LUNCH, M. BUTTERFLY, CRASH, EASTERN PROMISES, A DANGEROUS METHOD, and COSMOPOLIS.
Shore has long-standing collaborations with directors Martin Scorsese on films including GANGS OF NEW YORK, THE DEPARTED, THE AVIATOR, and HUGO, and with Peter Jackson on THE LORD OF THE RINGS and THE HOBBIT trilogies. His credits also include THE SILENCE OF THE LAMBS, PHILADELPHIA, DOUBT, and SE7EN to name a few. Shore's upcoming film projects include THE HOBBIT: THE BATTLE OF THE FIVE ARMIES and Cronenberg's MAPS TO THE STARS.
The feature film ROSEWATER is based on The New York Times best-selling memoir Then They Came for Me: A Family's Story of Love, Captivity, and Survival, written by the BBC journalist Maziar Bahari. A true story, the film marks the screenwriting and directorial debut of "The Daily Show" host and executive producer Jon Stewart, and stars Gael García Bernal, leading an international cast.
Rosewater follows the Tehran-born Bahari, a 42-year-old broadcast journalist with Canadian citizenship living in London. In June 2009, Bahari returned to Iran to interview Mir-Hossein Mousavi, who was the prime challenger to controversial incumbent president Mahmoud Ahmadinejad. As Moussavi's supporters rose up to protest Ahmadinejad's victory declaration hours before the polls closed on election day, Bahari endured great personal risk by submitting camera footage of the unfolding street riots to the BBC. Bahari was soon arrested by Revolutionary Guard police, led by a man he nicknamed "Rosewater" for his fragrant cologne, who proceeded to torture and interrogate the journalist over the next 118 days.
Track listing
1. Rosewater
2. Green Movement
3. Haj Agha
4. Election Day
5. New Bloom (excerpt) – Mahdyar Aghajani
6. Dust and Dirt
7. Evin Prison
8. Solitary
9. Vagheyi (excerpt) – Mahdyar Aghajani
10. Maryam
11. Davood
12. The Confession
13. International News
14. Dance Me To The End of Love – Leonard Cohen
15. Released
16. Ye Baade Khonak – 25 Band
Open Road Films presents ROSEWATER opening in select theaters on November 14, 2014. The ROSEWATER (Original Motion Picture Soundtrack) from Howe Records will be available digitally on November 11 and on CD December 9, 2014.
Recent releases from Howe Records include MAPS TO THE STARS, and the expanded collector's editions of the soundtracks for DEAD RINGERS, NAKED LUNCH, and CRASH. Other titles available in the Howard Shore Collector's Edition series from Howe Records include Collector's Edition Vol. 1 (featuring unreleased music from Martin's Scorsese's AFTER HOURS and more), SOUL OF THE ULTIMATE NATION (Shore's epic score for the massive multiplayer online role-paying game), and the remastered soundtrack for ED WOOD (with four bonus tracks).
###
For more information contact: Beth Krakower, CineMedia Promotions, @310.439.1403, beth@cinemediapromotions.com or @cinemediapromo on Twitter
You may also like
Upcoming Concerts: