Se7en
Present – 2010 | 2009-2000 | 1999 – 1990 | 1989 – 1978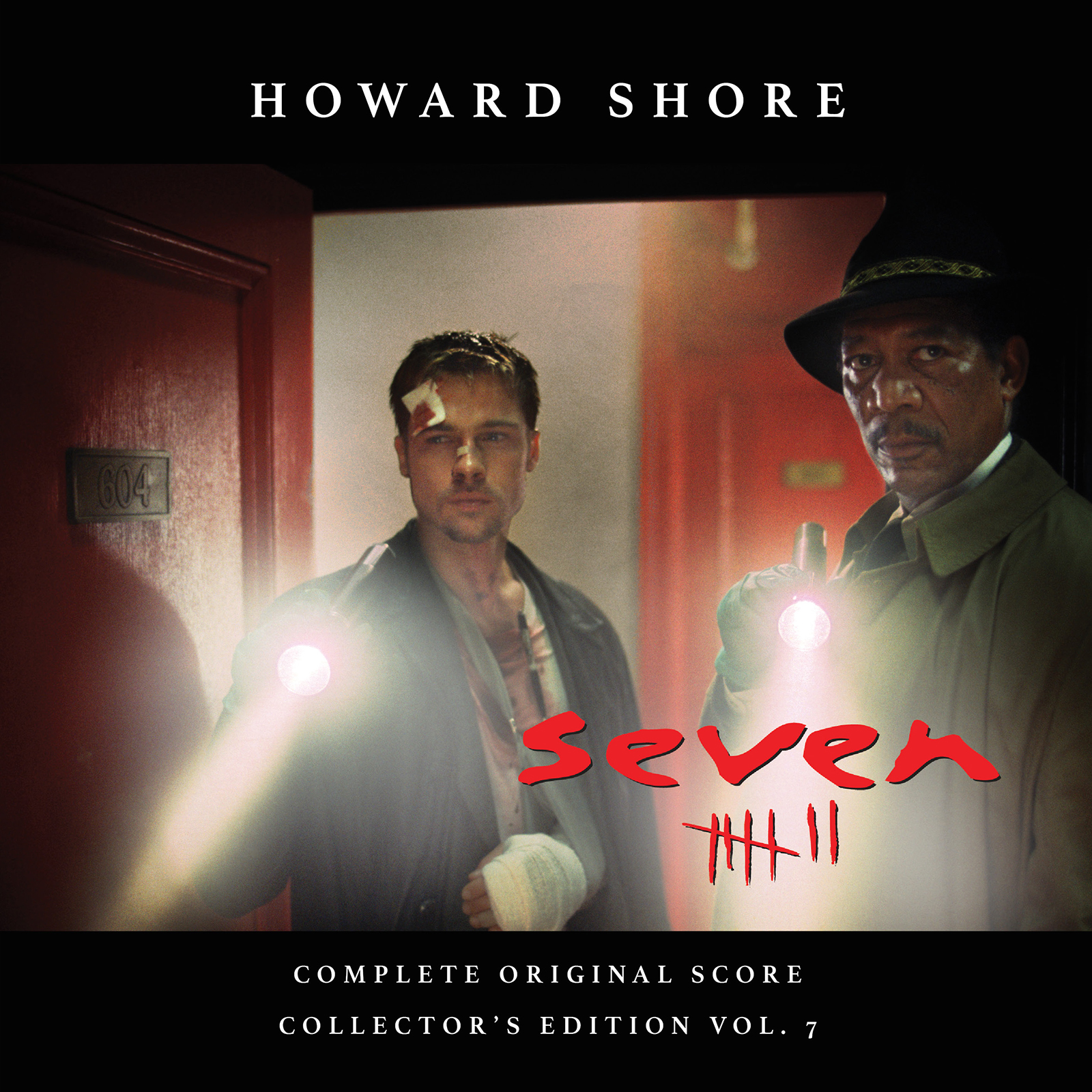 SE7EN
1. The Last Seven Days
2. Gluttony
3. Linoleum
4. Somerset
5. Greed
6. Mrs. Mills
7. Help Me
8. Sloth
9. Library
10. John Doe
11. Apartment #604
12. Lust
13. Pride
14. The Wire
15. Envy
16. Wrath
The First Ever Release of SE7EN–COMPLETE ORIGINAL SCORE
COMPOSED BY HOWARD SHORE
Available at: Amazon and Best Buy
On September 16th Howe Records is pleased to release, for the first time ever, Howard Shore's complete original score to David Fincher's renowned film SE7EN, containing over 60 minutes of original music by Shore. Contributing newly commissioned liner notes for this release is noted film historian and author Peter Cowie. He states: "When heard on its own, Shore's score becomes even more intense and unnerving. It clasps the viewer in a deadly, serpentine embrace, forcing one to confront the malevolence of 'John Doe,' the serial killer stalked by detectives Mills and Somerset. Brass, woodwind, strings and timpani weave an abiding spell that would serve as the perfect accompaniment to a screen version of Dante's Inferno, drawing one down inexorably from one circle of Hell to the next."
HOWARD SHORE is one of today's premier composers whose music is performed in concert halls around the world by the most prestigious orchestras and is heard in cinemas across the globe. Shore's musical interpretation of J.R.R. Tolkien's imaginative world of THE LORD OF THE RINGS and THE HOBBIT, as portrayed in the films directed by Peter Jackson, have enthralled people of all generations for years. This work stands as his most acclaimed composition to date awarding him with three Academy Awards, four Grammy Awards, two Golden Globes.
In July 2016 Shore was honored to receive the Locarno Film Festival's Vision Award. He is an Officier de l'ordre des Arts et des Lettres de la France and has also been recognized by Canada with the Governor General's Performing Arts Award. The National Board of Review of Motion Pictures honored Howard Shore with an award for Career Achievement for Music Composition, he received The Recording Academy Honors, the City of Vienna bestowed him with the Max Steiner Award, and has received numerous other awards for his career achievements.
Perhaps most notable from his early career, Shore was one of the creators of SATURDAY NIGHT LIVE and served as musical director from 1975- 1980. At the same time he began collaborating with David Cronenberg and has since scored 15 of the director's films, including THE FLY, CRASH and NAKED LUNCH. He was awarded Canadian Screen Awards for MAPS TO THE STARS for score and COSMOPOLIS for both score and song. His original scores to A DANGEROUS METHOD, EASTERN PROMISES and DEAD RINGERS were each honored with the Genie Award. Shore continues to distinguish himself with a wide range of projects, from Martin Scorsese's HUGO (Oscar & BAFTA nominee), THE DEPARTED, GANGS OF NEW YORK and THE AVIATOR (for which he won his third Golden Globe Award) to ED WOOD, SE7EN, THE SILENCE OF THE LAMBS (BAFTA nominee), PHILADELPHIA, MRS. DOUBTFIRE, and his score for Tom McCarthy's Academy Award-winning film SPOTLIGHT.
Other recent works include the piano concerto Ruin and Memory for Lang Lang (2010), the song cycle A Palace Upon the Ruins featuring mezzo-soprano Jennifer Johnson Cano (2014), Six Pieces (2014), a cello concerto Mythic Gardens (2012), and Fanfare for the Wanamaker Organ in Philadelphia (2008). His opera, The Fly (2008), which premiered at the Théâtre du Châtelet in Paris and at Los Angeles Opera, recently completed a successful run in Germany at the Theatre Trier. His chamber music album "A Palace Upon the Ruins—Selected Works" will be released on November 4, 2016.
Upcoming Concerts: