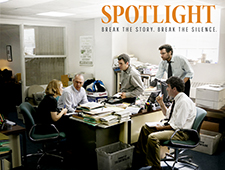 Spotlight Soundtrack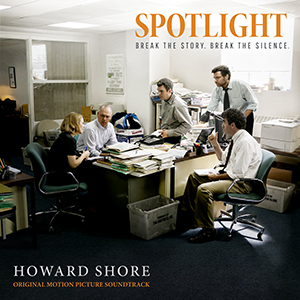 Spotlight – Original Motion Picture Soundtrack
New Music From Howard Shore
Available now at:
On CD:
On Cassette:
Howe Records is proud to announce the release of the soundtrack for Director Tom McCarthy's film SPOTLIGHT, available digitally, on Nov. 6, and physically on November 13, 2015.
SPOTLIGHT tells the astonishing story of the Boston Globe's Pulitzer Prize-winning "Spotlight" team of investigative journalists, who in 2002 shocked the city and the world by exposing the Catholic Church's systematic cover-up of widespread pedophilia perpetrated by more than 70 local priests.
A cinematic tribute to long-form journalism, SPOTLIGHT shows the power of investigative reporting. Staring Mark Ruffalo, Michael Keaton, Rachel McAdams, Liev Schreiber, John Slattery and Stanley Tucci.
Howard Shore is among today's most respected and honored composers. Shore's musical interpretation of J.R.R. Tolkien's imaginative world of The Lord of the Rings and The Hobbit, as portrayed in the films directed by Peter Jackson, have enthralled people of all generations for years. This work stands as his most acclaimed composition to date earning him with three Academy Awards, four Grammy Awards, and two Golden Globes. Since 2003 Shore's music from the beloved trilogy has been constantly performed in concert halls around the world.
Shore has collaborated with David Cronenberg on 15 of the director's films, including Maps to the Stars, The Fly, Crash, Dead Ringers and Naked Lunch. Shore continues to distinguish himself with a wide range of projects, from Martin Scorsese's Hugo, The Departed, The Aviator (for which he won his third Golden Globe Award) and Gangs of New York to Ed Wood, Se7en, The Silence of the Lambs, Philadelphia, and Mrs. Doubtfire.
Most recently, the Chicago International Film Festival awarded Shore with a Gold Hugo Career Achievement Award.
Howe Records has released a live recording of The Lord of the Rings Symphony: Six Movements for Orchestra and Chorus, Shore's magnificent score for Martin Scorsese's Hugo, the soundtrack for John Stewart's Rosewater, and many more.
Open Road presents, in association with Participant Media and First Look Media, SPOTLIGHT An Anonymous Content and Rocklin/Faust Production in theaters Nov. 6,, 2015. The SPOTLIGHT (Original Motion Picture Soundtrack) from Howe Records will be available digitally Nov. 6th and CD and Cassette November 13th.
###
For more information, visit: http://howerecords.com/spotlight
or contact: info@howerecords.com
You may also like
Upcoming Concerts: