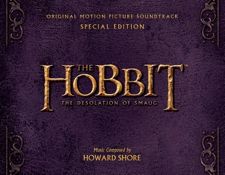 The Hobbit: The Desolation of Smaug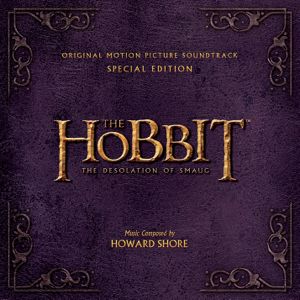 Order the Special Edition now from Amazon or iTunes.

Or the Standard Edition from Amazon or iTunes.
The soundtrack is available both digitally and as a 2 CD set. A Special Edition soundtrack, featuring twelve extended tracks, a bonus track, expanded liner notes and interactive sheet music will also be available.
The Hobbit: The Desolation of Smaug Original Motion Picture Soundtrack features the music of Howard Shore, one of film music's most respected, honored, and active composers and conductors. "I'm looking forward to introducing you to Smaug," exclaimed Shore, who previously worked with director Peter Jackson on The Lord of the Rings Trilogy and on The Hobbit: An Unexpected Journey.
Jackson added, "Howard Shore's music soars and enriches way beyond its connection to our images, a unique sound like no other. He truly has created an epic musical world of his own. "
Shore's music for The Lord of the Rings Trilogy has been performed in numerous concerts internationally. In 2003 he conducted the New Zealand Symphony Orchestra and Chorus in the world premiere of The Lord of the Rings Symphony in Wellington, New Zealand. Since then, the work has been performed nearly 300 times by the world's most prestigious orchestras, and has been the subject of a book, The Music of The Lord of the Rings Films: A Comprehensive Account of Howard Shore's Scores.
Howard Shore's music for The Lord of the Rings Trilogy stands as his most towering achievement to date, garnering three Academy Awards® for his music for those films, two for Best Original Score, and one for Best Original Song. Shore has also won numerous other honors for his film work, including four Grammys and three Golden Globe Awards, the Career Achievement for Music Composition Award from the National Board of Review of Motion Pictures, New York Chapter's Recording Academy Honors, ASCAP's Henry Mancini Award, the Frederick Loewe Award and the Max Steiner Award from the city of Vienna. He holds honorary doctorates from Berklee College of Music and York University, and is an Officier de l'ordre des Arts et des Lettres de la France and the recipient of the Governor General's Performing Arts Award in Canada.
Included on the soundtrack is "I See Fire," a new song created for the film by Ed Sheeran, the 22-year old British singer/songwriter and multi-platinum global phenomenon who was nominated in the prestigious "Song of the Year" category at this year's 55th Annual Grammy Awards. "It was such an honor working with Peter Jackson on this song," Sheeran says. "Not only is he one of my favorite directors of my favorite films, The Hobbit was the first book I ever read as a child, so it means a lot that I get to produce music for the motion picture."
Listen to clips on the WaterTower site.
The track list is:
DISC 1
1. The Quest for Erebor
2. Wilderland
3. A Necromancer (Bonus Track) *
4. The House of Beorn **
5. Mirkwood **
6. Flies and Spiders **
7. The Woodland Realm **
8. Feast of Starlight
9. Barrels Out of Bond
10. The Forest River **
11. Bard, a Man of Lake-town **
12. The High Fells **
13. The Nature of Evil
14. Protector of the Common Folk
DISC 2
1. Thrice Welcome
2. Girion, Lord of Dale **
3. Durin's Folk **
4. In the Shadow of the Mountain
5. A Spell of Concealment **
6. On the Doorstep
7. The Courage of Hobbits
8. Inside Information
9. Kingsfoil
10. A Liar and a Thief
11. The Hunters **
12. Smaug **
13. My Armor Is Iron
14. I See Fire performed by Ed Sheeran
15. Beyond the Forest
* Bonus track available on Special Edition Soundtrack only
** Extended Versions of these songs Available on Special Edition Soundtrack only
You may also like
Upcoming Concerts: