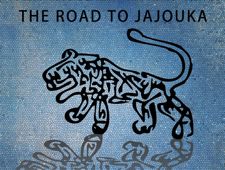 The Road to Jajouka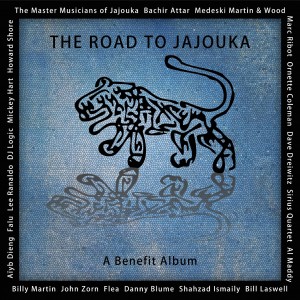 The Master Musicians of Jajouka, led by Bachir Attar, announced to perform at Bonnaroo Music & Arts Festival in 2014 joined by DJ Logic, Marc Ribot, Shazad Ismaily and Billy Martin. http://www.bonnaroo.com
Available now from iTunes & Amazon.
"The music of Jajouka is trance music, ecstatic music, a music narcotic. From its source—a particular village in the southern Rif mountains of Morocco—this magical music has migrated around the world, moving like clouds, like water, like smoke-flowing through the collective consciousness of its appreciators," writes Jim Jarmusch in the liner notes to The Road to Jajouka, a new recording that pays tribute to the legendary Master Musicians of Jajouka led by Bachir Attar. The collection, set for release September 10 on Howe Records, features both new performances and remixes created by western master musicians utilizing original Jajouka recordings. Produced by drummer/producer Billy Martin, the nine tracks feature guest artists including Medeski Martin & Wood, Marc Ribot, Ornette Coleman, John Zorn, Lee Ranaldo, Flea and Mickey Hart among others. All profits from album sales will benefit The Jajouka Foundation, a non-profit organization established in 2013 to foster awareness and preservation of this ancient ceremonial music.
"The music of Jajouka goes back a long way," producer/bassist Bill Laswell said. "Paul Bowles, William S. Burroughs and Brion Gysin have all been closely associated with it, as is Ornette Coleman and The Rolling Stones. I first heard the Master Musicians on the Brian Jones record, Brian Jones Presents the Pipes of Pan at Jajouka, originally released in 1971, which was a very primitive recording. When he got back home the tapes didn't sound the way he remembered it in his head, so he put some phasing on the tracks and that began a long history of people 'interpreting' the Master's music."
The next western musician to make the trek up to the fabled Rif mountain hilltop was free jazz alto saxophonist Ornette Coleman led by the journalist/musician Robert Palmer in January 1973. Three years later, Coleman's album Dancing In Your Head would feature "Midnight Sunrise," Ornette's compelling collaboration with the Masters Musicians. "Ornette loved the music and put Jajouka on his record," Bachir said proudly.
The fascination with "the 4000 year old rock 'n' roll band" (as William S. Burroughs dubbed the Masters) continued to spread over the years, to everyone from Throbbing Gristle's Genesis P-Orridge to Debbie Harry to soprano saxophonist Steve Lacy to the Indian percussionist Talvin Singh whose 2000 release Master Musicians of Jajouka album mixed the tight mathematical rhythms of the Subcontinent with the ancient melodies of the Rif with a touch of electronic ambiance and global bass grooves.
"You have either heard of them or you haven't," Billy Martin explained. "Danny Blume told me the Brian Jones album was one of the first records he bought as a teenager. It was actually their connection to Ornette that brought me to their music."
And now in 2013 the road from Jajouka continues to stretch further and further. The idea for this project grew from a friendship between Billy Martin, drummer for the exploratory jazz trio Medeski Martin and Wood, and Bachir Attar, the modern leader of the Master Musicians of Jajouka. Billy was introduced to Bachir through a mutual friend in Spain and before long they were playing shows together in the U.S. Soon thereafter Billy was invited to oversee the project that would become The Road to Jajouka. "After discovering and immersing myself in their music, I began playing along with it. I tried out different tempos, playing cross patterns. It was intense," Billy said. "There are moments where you connect and then suddenly you find yourself lost! They might be playing in 4 and then they're in 5. They've got a wide spectrum, and use multiple pulses. There are many variables and counterparts."
Indeed, Billy's production on this new collection creates a sonic collage of ancient and future rhythms, modern and primitive melodies. It opens with the invocation, "Hand of Fatima" by Medeski Martin & Wood, joined by Marc Ribot on guitar and banjo and Bachir Attar on lira, the ancient Berber bamboo flute passed down to him by his father, Hadj Abdessalem Attar.
On the second track, Mickey Hart, drummer/percussionist of Grateful Dead fame and author of Planet Drum, joins forces with Bronx-born turntablist DJ Logic. Entitled "Baraka," a word that means blessing, the performance audibly evokes such sentiments.
"Djebala Hills" (in which the village of Jajouka is nestled) features East Indian singer Falu with avant-saxophonist/composer John Zorn, Billy Martin and the Red Hot Chili Pepper's anchor Flea on bass. Flea's bass part was recorded in London when he sat in with Ornette and the Masters at the Meltdown Festival in June 2009.
Lee Ranaldo has had a long history with Jajouka. Sonic Youth's guitarist authored an evocative memoir of his travels in the Maghreb called Moroccan Journal: Jajouka written in September 1995. With "Boujeloudia Magick," Ranaldo conjures his impressions of the feral goat-boy Bou Jeloud who danced to Bachir's ancestors' music thousands of years ago.
"Into the Rif" pairs eclectic guitarist Marc Ribot with multi-instrumentalist/producer Shazhad Ismailey alongside the Masters. "I wasn't in the room when the basics were recorded," Ribot recalled. "I overdubbed in my studio in Brooklyn. But it was great to work with the Jajouka musicians' tracks, to listen closely, and play along over and over till it felt right. Their grooves are wonderful and unique and I feel like Billy and the other musicians he asked to play on these tracks took the challenge of adding to these voices seriously, as the honor and musical opportunity it was."
"Ghaita Blues" features Bachir Attar on the piercing apricot wood folk oboe, the ghaita (also known as the rhaita), joined by Billy Martin and Ween/Marco Benevento bassist Dave Dreiwitz. "Being a lover of the band, it was thrilling to play their music. It was a life-long dream I'd never dreamt," Dreiwitz enthused.
"Jnuin" finds Ornette Coleman reunited with Bachir Attar and the Master Musicians. Coleman's unique approach to improvisation, dubbed "harmolodics" (part harmony/motion/melody), fits hand in kid glove with the Master's caterwauling ghaita's and pounding heartbeat rhythms. "Ornette's an angel, so pure. And he shoots a mean game of pool!" Billy laughed. "He really finds his voice in there," Martin said of Coleman's weaving sax. "This was the perfect collaboration!"
"Sufi Hadra" features Falu with Senegalese percussionist Aïyb Dieng and Bill Laswell. Laswell himself followed the road to Jajouka in November 1991 to record the pristine field recording Apocalypse Across the Sky.
The album's closing track, "Al'Aita" features composer Howard Shore with the London Philharmonic Orchestra. Shore's collaboration with Ornette Coleman on the haunting score to David Cronenberg's 1991 adaptation of William S. Burrough's Naked Lunch was inspired by "Midnight Sunrise." His contribution to The Road to Jajouka comes from the score to The Cell, which featured Bachir Attar and the Master Musicians of Jajouka.
Jajouka has faced constant challenges in recent years. A few of the Master Musicians have died, others are getting on in years and are in need of health care, while many of the young men have fled the village, leaving behind the old ways in search of a modern lifestyle in Tangier and Paris. "Many people ask about the future of the village and our music, which is very good," Bachir Attar said. "But after many thousands of years, maybe there is an end?"
In response, a clutch of concerned musicians, led by Billy Martin, have come together to do their part to help preserve and further the music, myth and magic of Jajouka. All of the musicians volunteered their time and performances to the project. The funds raised for The Jajouka Foundation with profits from album sales, and fan donations, will be used to care for the internationally celebrated Master Musicians of Jajouka led by Bachir Attar and their families for community health care and to maintain its centuries-old traditions of Jajouka.
"In Moroccan the word Jajouka means 'good things will come to you,'" explains Billy Martin. "It seems truly prophetic in this case. The way everything fell into place for this project was truly something magical to witness and be part of."
Jim Jarmusch concludes in The Road To Jajouka's liner notes: "These remixed recordings are a natural transformation—welcome extensions from the branches of the tree. This is a living music and whenever I listen to its hallucinogenic properties, I too tend to believe that if the Master Musicians of Jajouka were to ever stop the flow of their magic the earth might well stop rotating on its axis, might cease to revolve around the sun…"
howerecords.com
jajoukafoundation.org
calabromusicmedia.com
For more information on The Road to Jajouka and/or promo, artist interview and photo requests, please contact Kevin Calabro at Calabro Music Media:
Kevin@calabromusicmedia.com | 917.838.4613
You may also like
Upcoming Concerts: