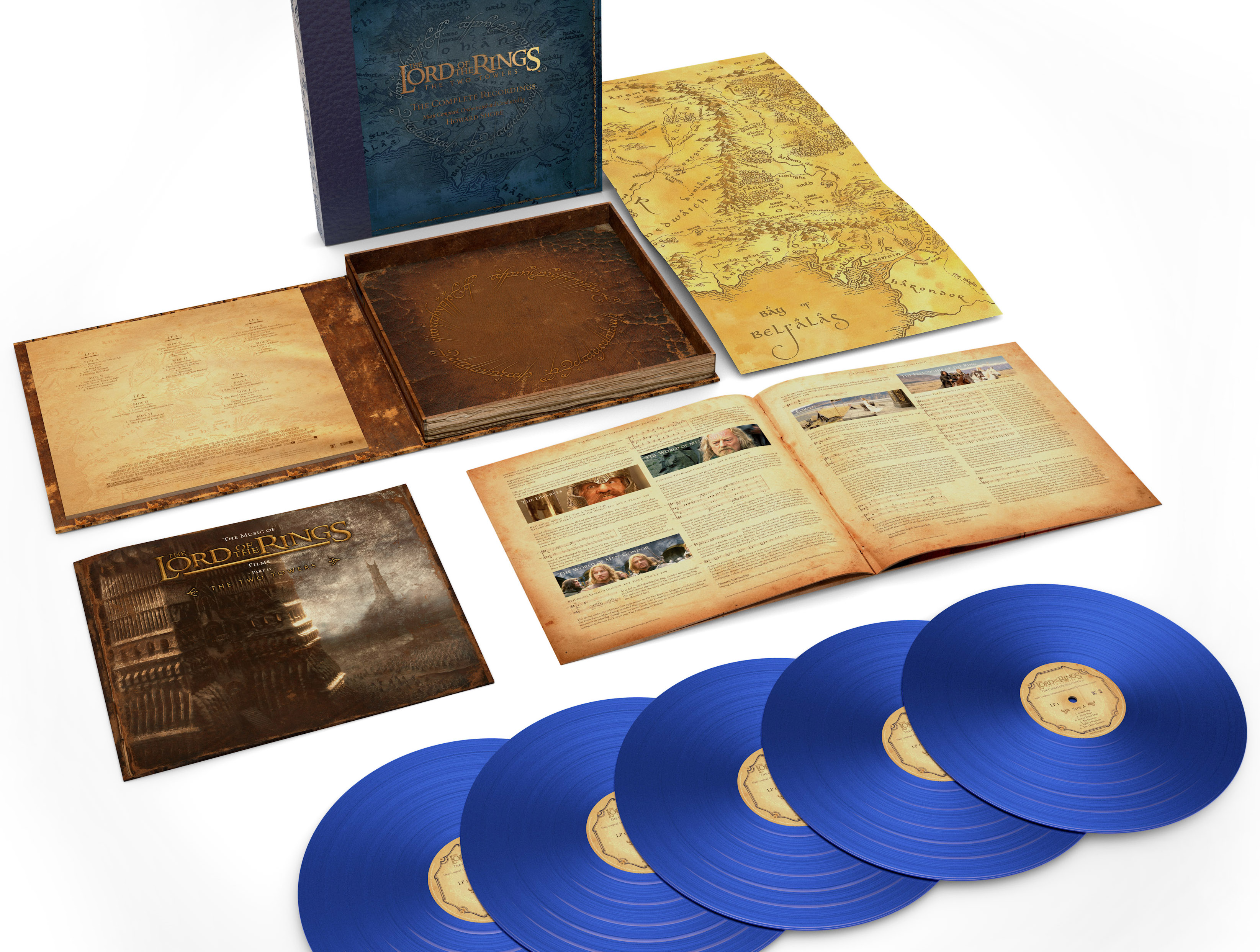 The Two Towers – The Complete Recordings on Vinyl and back on CD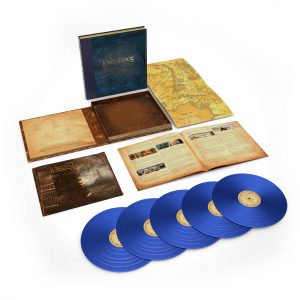 THE LORD OF THE RINGS SOUNDTRACKS
The Lord of the Rings: The Two Towers: The Complete Recordings
Limited-Edition Boxed Sets Now Available From Rhino
ORDER NOW
On Vinyl: https://www.amazon.com/
On CD/Blu-ray: https://www.amazon.com
LOS ANGELES – The Lord of the Rings is one of most successful trilogies in film history. Directed by Peter Jackson and based on the popular J.R.R. Tolkien novel of the same name, The Lord of the Rings earned a total of 17 Academy Awards®. Three of those awards were for the music that was featured in the films, which enjoyed wide commercial success and collectively has sold seven million copies.
Rhino will once again return to Middle-earth on July 27 with the second soundtrack from the Trilogy. THE LORD OF THE RINGS: THE TWO TOWERS – THE COMPLETE RECORDINGS will be released on vinyl for the first time as a 5-LP boxed set ($119.98). Housed in a collector's box with a blue leather-style spine, the collection is limited to 8,000 individually numbered copies on blue vinyl. The soundtrack will also be available as a 3-CD disc set ($79.98), plus 1 Blu-ray audio disc containing high-resolution 5.1 and stereo mixes of the entire score, a reactivation of the 2006 box set featuring the entire score from the extended versions of the film. Both versions come with extensive liner notes from author Doug Adams, who analyzes many of the themes and motifs used throughout the score.
The music for all three films was composed, orchestrated and conducted by Howard Shore. The music he wrote for The Lord of the Rings: The Two Towers was performed by the London Philharmonic Orchestra with contributions from the choirs: the London Voices and the London Oratory School Schola boy's choir. The album was certified gold in the U.S., the U.K. and Canada and won the Grammy Award® for Best Score Soundtrack Album.
THE LORD OF THE RINGS: THE TWO TOWERS – THE COMPLETE RECORDINGS is the second of in a series of three releases that includes The Lord of the Rings: The Fellowship of the Ring (2001) and The Lord of the Rings: The Return of the King (2003) on color vinyl for the first time. More information on the final release in the series will be available at a later date.
There's probably never been as ambitious a film score as Howard Shore's 10-hour epic for the "Lord of the Rings" series… the music is rich and complex, drawing on a vast range of styles and exotic instruments to evoke J.R.R. Tolkien's world of elves, hobbits and warlocks. But it's more than just background music: Shore uses an elaborate leitmotif technique (where musical themes are associated with specific characters or ideas, and are developed across the entire series) to hold the sprawling tale together. Lush, beautiful and full of intriguing surprises, it's no wonder that it's become one of the most popular film scores ever written.
– Stephen Brookes for the Washington Post, May, 2008
ORDER NOW
On Vinyl: https://www.amazon.com/
On CD/Blu-ray: https://www.amazon.com
You may also like
Upcoming Concerts: